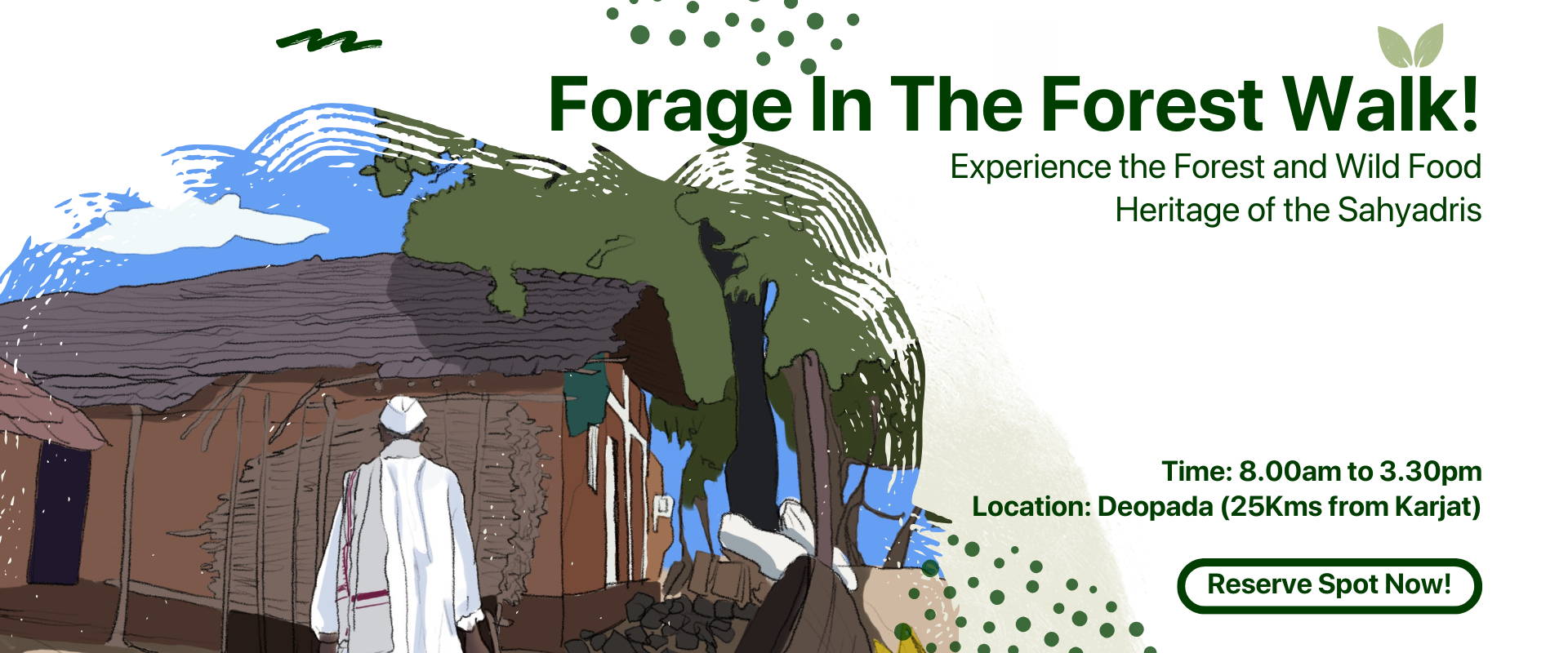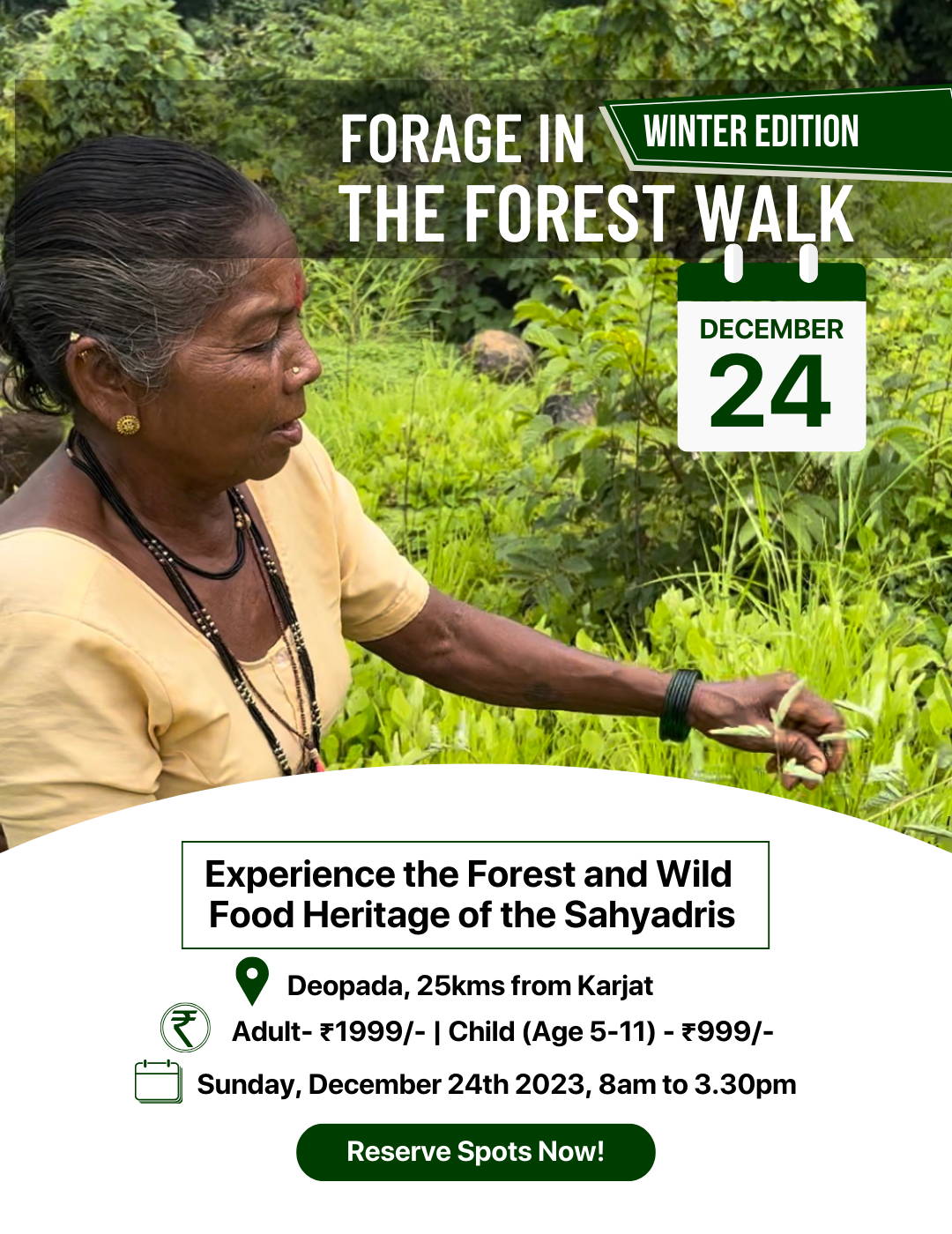 This Forest walk is an expression of connecting with our roots, exploring the rich diversity of our local food, experiencing the tribal culinary delights and learning from tribal wisdom and their sustainable ways of living.
It is an effort into investing a day where each one of us can return back with something that makes our lives more fulfilling, happy or maybe just experience the magic our forests have to offer.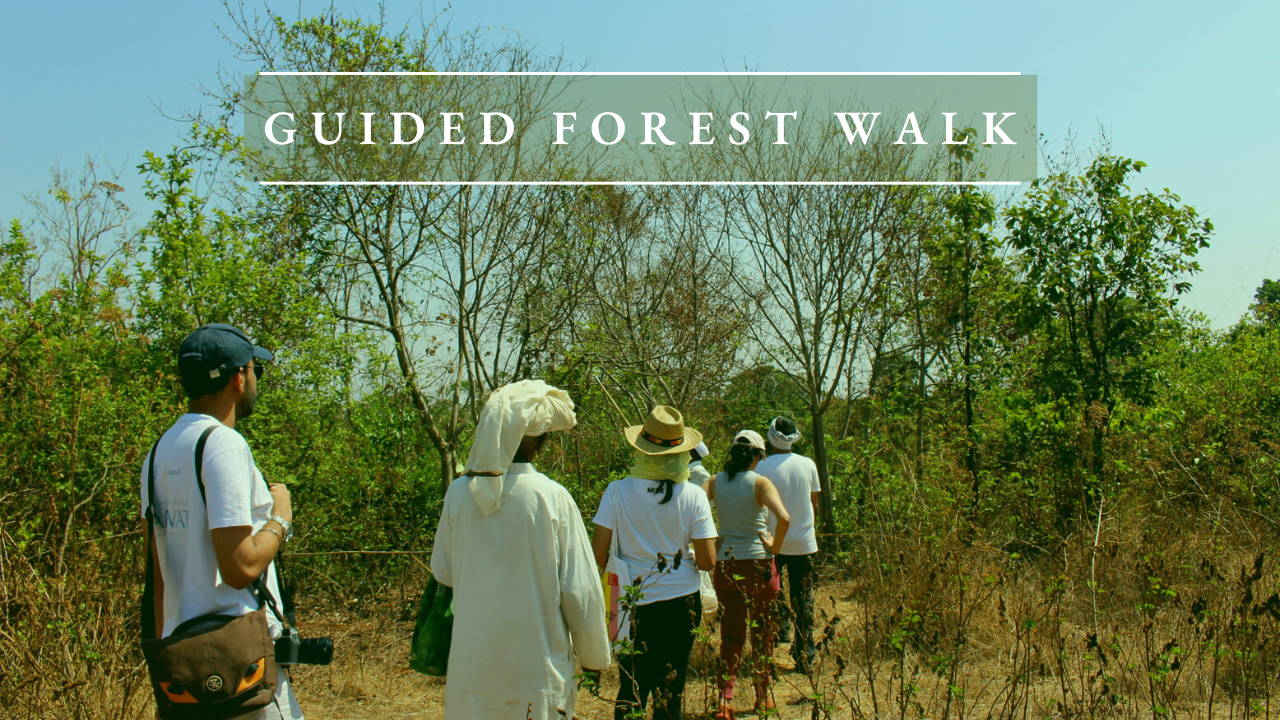 Forage foods in the Sahyadri Forest guided by local Thakar Tribals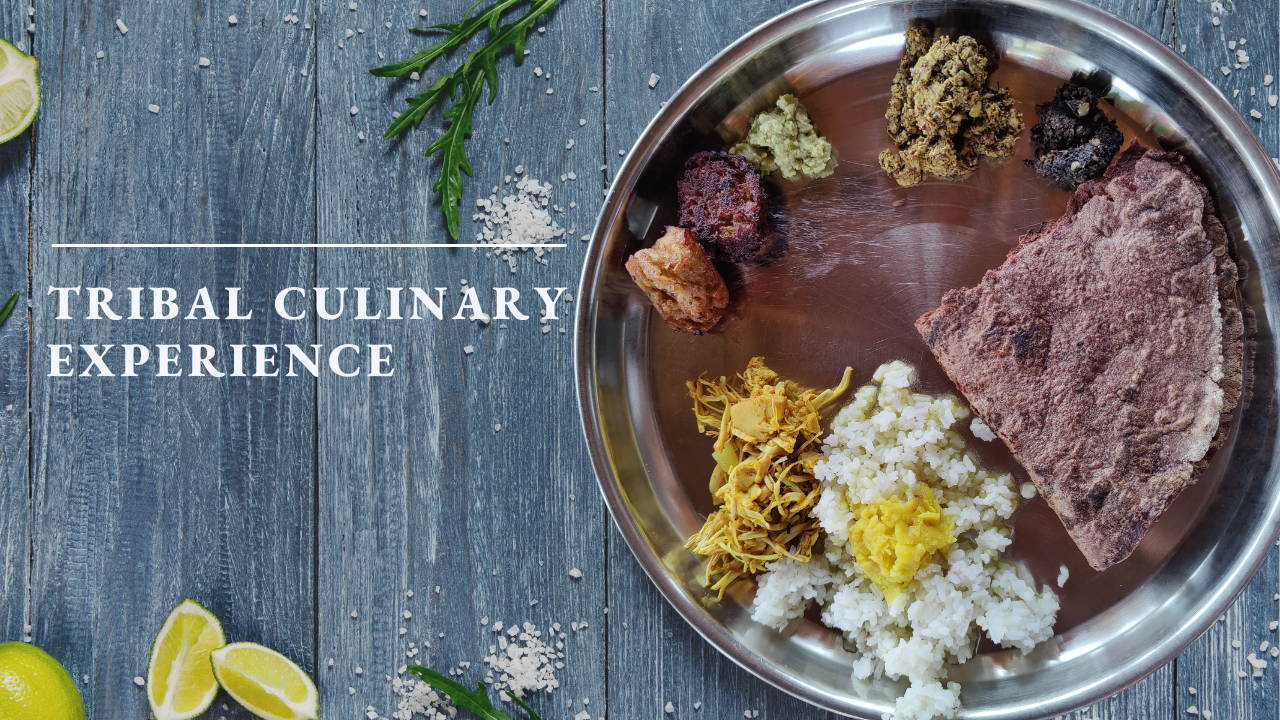 Experience more than 10 wild foods like Mahua, Telpat, Bhimra foraged during the walk and cooked along with the tribal family
Experience more than 10 wild foods like Mahua, Telpat, Bhimra foraged during the walk and cooked along with the tribal family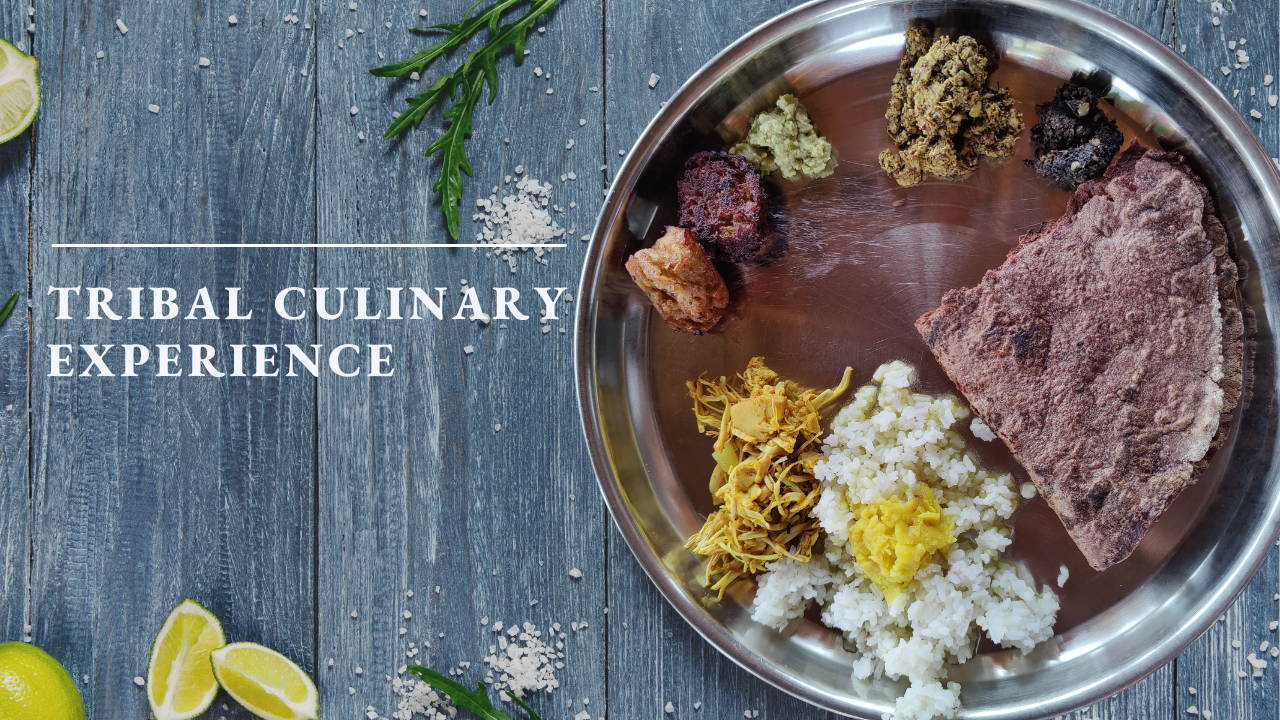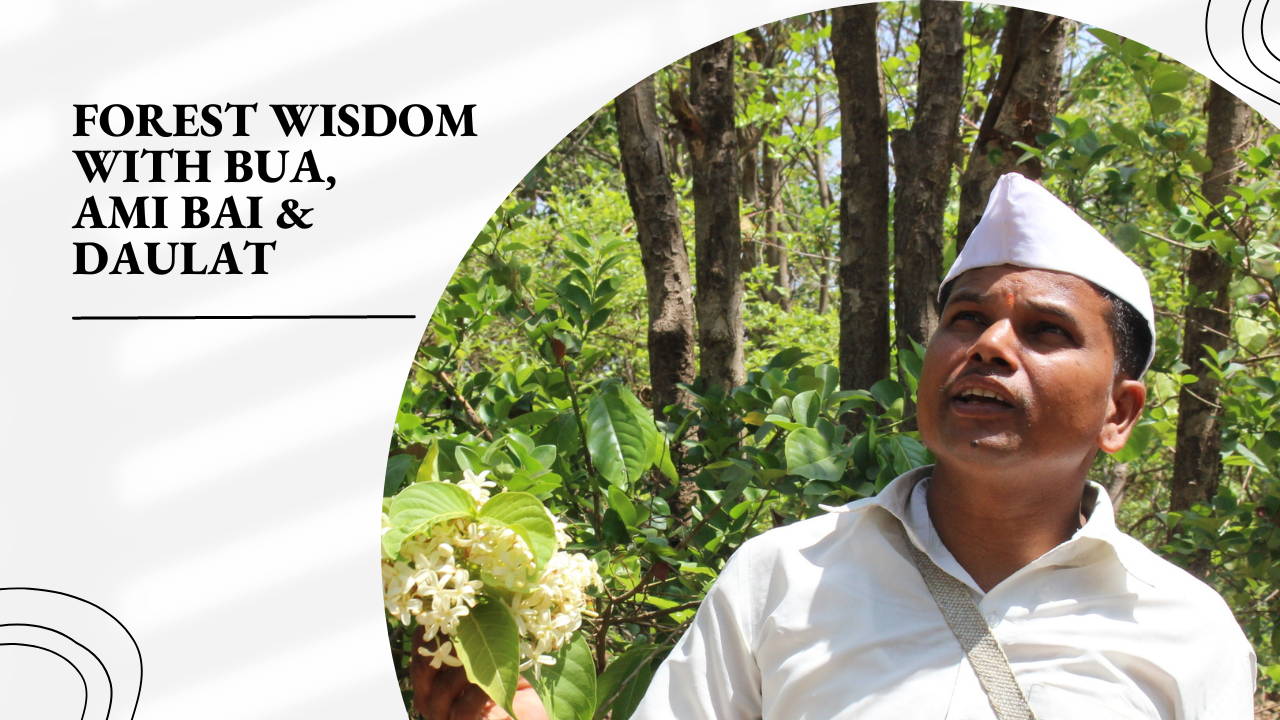 Interact with Bua, Ami bai and Daulat to understand about the mysticism of the forest, wild foods and tribal lifestyle.
Journey Through the Day: Itinerary
8:00 AM: Reach the event location
8:00 AM - 8:45 AM: Registration & welcome tea
8:45 AM - 9:00 AM: Introduction to the walk, team and participants
9:00 AM - 10:00 AM: Breakfast made by our local tribal family
10:00 AM - 12:00 PM: Forest Walk and wild food foraging
12:00 PM - 1:30 PM: Assisting in preparing lunch, learning how to use the local foraged ingredients
1:30 PM - 2:30 PM: Lunch
2:30PM - 3.30 PM: Conversations around wild food, forest and the tribal lifestyle.
3:30 PM: Final Goodbyes!
✓ Guided forest walk and foraging experience
✓ Breakfast and Lunch : Forest inspired food made by the tribal family
✓ Vegetarian food (Vegan friendly meals as well)
✓ Drinks :
- Herbal tea and a refreshing flower based drink
- The usual milk based chai/coffee is not available but guests can carry their own ingredients which can be made there.
✓ Equipment : We will lend you a stick for the forest walk, for better grip.
✓ Water - Safe Hand filtered water. We would request you to carry your own bottles of water if you would need mineral or RO water.
What Guests Need to Bring:
✓ An open mind and enthusiasm to learn more about the tribal culture, wild food based cuisine, and the forest
✓ Raincoat, Camera (with a water-proof cover), head-gear for the monsoon, mosquito spray, and sunblock (optional)
✓ A casual outfit with trekking or sports shoes is recommended. A Change of dry clothes and towel
✓ ID Proof (Mandatory)
✓ Natural/ organic mosquito repellent
Frequently Asked Questions
1. Are there age restrictions for the Forest Walk?
The Forest Walk is open to age above 5. However, children under 14 should be accompanied by an adult.
2. Do the charges include transportation from and back to Mumbai?
No, the event charges do not cover transportation. Participants are responsible for arranging their own transport to and from the event location. We recommend planning your travel in advance to ensure a timely arrival.
3. How can I get to and from the event location?
Detailed directions to the event location will be shared with participants after registration. Carpooling is encouraged as part of our sustainability initiatives.
4. How strenuous is the Forest Walk?
The Forest Walk covers a distance of 2km. We recommend it for individuals who are comfortable with walking for extended periods.
5. What should I wear/bring for the Forest Walk?
Since its most likely to rain we recommend comfortable walking shoes, weather-appropriate clothing, a hat and sunscreen (if it does not rain), an umbrella or a raincoat preferable (if it rains), mosquito repellent cream and a reusable water bottle. A camera may also enhance your experience.
6. Are meals provided during the Forest Walk?
Yes, we provide a locally sourced breakfast and a delicious lunch featuring forest-inspired dishes. We also offer a refreshing Sharbat during our post-lunch conversation.
7. Will there be washroom facilities available?
Yes, washroom facilities will be available for participants.
8. What measures are in place for safety and emergencies?
Our team is trained in first aid, and we have safety protocols in place for various emergency scenarios. Additionally, Daulat, our guide, has extensive knowledge of the forest and its terrain.
9. Can I bring my pet to the Forest Walk?
Yes, you are welcome to bring your dog to the Forest Walk. However, we kindly ask that you keep them on a leash at all times for the safety and comfort of all participants and wildlife.
10. What is the cancellation policy?
You can shift the event date up to 7 days before the event. No Cancellation or Refund shall be possible.
We invite you to an immersive and intimate adventure with team Monks Bouffe and our cherished tribal friends!